When the Richardson Grove project was first announced in September 2007 the Caltrans rationale for the project was "safety." The safety concern cited was the potential for two big-rigs or a big-rig and another vehicle passing side by side to collide because one might "off-track" and hit the other vehicle."Off-tracking "is caused when the back end of a big-rig swings out over the double yellow line while rounding a sharp curve. Currently that is the reason why only California legal trucks are allowed in Richardson Grove as well as on stretches of Highways 197/199 through the Smith River canyon.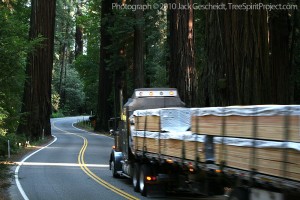 Photo by Jack Gescheidt
Opponents of the project consulted CHP accident reports and found no documented accidents in the Grove attributed to off-tracking. To this day, there still has not been a documented accident in the Grove caused by off-tracking. Nevertheless Caltrans still cites this as a safety concern. Yet and in defiance of all logic it insists that it must make Highway 101 accessible to even larger Federal standard STAA trucks.
One year ago on April 10, 2014, a bus was heading north on Interstate 5 carrying high school students, prospective enrollees in HSU. An STAA FedEx big-rig heading south inexplicably crossed the wide grassy median and collided with the bus. Ten lives were lost in the horrific crash – 9 of the lives in the bus – the driver of the big-rig was victim 10.
Interstate 5 is as straight as an arrow between Redding and Sacramento. This crash occurred in broad daylight. Now think about one of these 80,000 gross weight monsters with no length limit (as per Federal standards) on our rural roads and hurtling through Eureka during rush hour. This is the "safety" Caltrans wants to inflict on our area.
This is not the end of the insanity. Every year the trucking industry lobbies Congress to increase the gross weight of these vehicles. Recently a 97,000 pound gross weight was proposed. The industry has lobbied for fewer restrictions on driver rest time requirements as well as for longer trailers. An effort was made recently to increase the length of double trailers from the present 28 feet to 33 feet. Nothing in the Caltrans documentation for this project addresses truck safety or the possibility for longer and heavier trucks on our rural roads.
Photo by heartlandfairfield.com
In a recent nationally broadcast episode on highway safety by ABC's 20/20 newsmagazine the first 10-minute segment was devoted to big-rig accidents. In 2012 there were 330,000 accidents nationally involving big-rig trucks resulting in over 4,000 deaths. In accidents involving a big-rig and a car there is a 97% fatality rate for car occupants. Please see the website <http://trucksafety.org>
Why the push by Caltrans to make Highway 101 STAA accessible and put us all at risk?
Highway 299 is already being made STAA accessible so the east-west corridor will be open between Redding and Eureka. Obviously our safety is not their concern. Opening Highways 197/199 and 101 will provide north-south Interstate truck access from Grants Pass to the Bay Area. Caltrans claims this will not result in an increase in truck traffic. It even claims that there will be a decrease in truck traffic. This decrease in truck traffic will probably result from driving our local truckers out of business. Our local truckers (Goselin, A-Tech, Oak Harbor, Al Lewis, Joe Costa, et al.) have been delivering goods and freight between the Bay Area and Crescent City for years. Caltrans claims it wants the STAA access for "businesss" but nowhere does it discuss the effect of competition by the Interstate trucking firms on our local trucking businesses or the jobs they provide.
Recently our tourism industry announced a new marketing campaign promoting Humboldt County as "Magical" and "Mystical." Please ask yourself how magical and mystical it will appear to tourists trying to cross Broadway when one of these STAA trucks thunders through Eureka. Please remember also that these trucks will be coming to a rural road near you to either refuel or make delivery. Northing restricts them from leaving the highway so ask yourself how magical is that? Caltrans' thinking is magical if they think this is about safety!
Many thanks!  Do not hesitate to contact me at bkenn202@att.net.  Barbara Kennedy
Originally posted in the Times Standard on 4/12/15